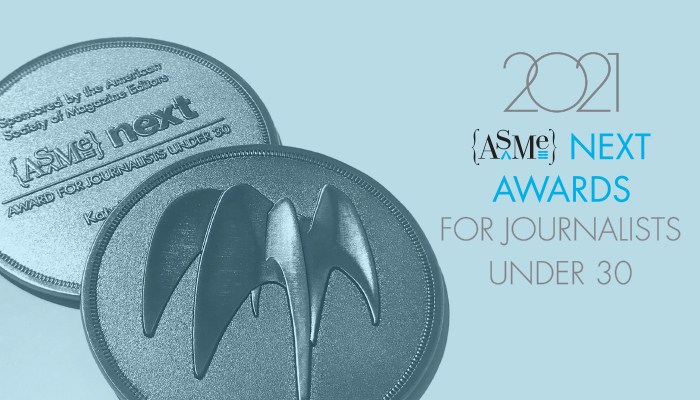 Sponsored by the American Society of Magazine Editors, the ASME NEXT Awards were established in 2016 to support the development of print and digital magazine media. The awards honor outstanding achievement by magazine journalists under the age of 30. Any full-time or freelance writer, photographer, editor, social media editor, designer or photo editor is eligible for nomination. Candidates must be nominated or endorsed by a member of ASME and must be employed by or associated with a print or digital publication edited by an ASME member. Eligible candidates must be under the age of 30 on January 1, 2021. Five award winners are chosen based on their talent and skill as demonstrated by their work and on their potential to make significant contributions to magazine media. Award winners receive a medal bearing the likeness of "Elephant Walking," the symbol of the National Magazine Awards, and will be honored at the annual presentation of the Ellie Awards on Thursday, June 10, 2021.
HOW TO ENTER — Submit the following at ellieawards.org:
an application form, including a video statement by the candidate no longer than two minutes, preferably recorded on a mobile device, explaining why he or she is pursuing a career in magazine media
a statement no longer than 400 words by the nominating editor explaining why the candidate deserves to win an ASME NEXT Award
a portfolio of the candidate's work, including no more than 10 print or digital examples 
—examples may be of any length and from any time in the candidate's career
—each example must be accompanied by a statement no longer than 100 words describing the candidate's role in the creation of the work
the candidate's current resume
All entries must be submitted online at ellieawards.org. Please visit the website before preparing submissions. Print entries require the submission of PDFs of the content as it was originally published. PDFs should be uploaded to ellieawards.org. PDFs should be converted to a single file in correct page order before uploading. Advertisements should not be included. Pages in editorial spreads should be shown together. Low-resolution files are preferred. Entries that contain digital content require the submission at ellieawards.org of web links or app-specific instructions, including usernames and passwords.
Processing fee: $50
Award winners announced Thursday, April 8, 2021, on Twitter
For more information, email [email protected]
ASME NEXT Awards 2020 Recipients Announced: Read the Press Release
For more information, or to submit an entry, visit asmenextawards.org.